Chincoteague Island, VA is Open! Click on the image to view our 'We're Open' video! Then plan your island getaway!
The Commonwealth of Virginia is currently in PHASE THREE but with new measures in place as of March 1, 2021
Governor Northam Increases Capacity Limits for Outdoor Sports and Entertainment Venues as COVID-19 Hospitalizations and Infection Rates Continue to Fall, Vaccinations Rise – February 24, 2021
The following mitigation measures will take effect at 12:01 a.m. on Monday, March 1: 
Universal mask requirement: All Virginians aged five and over are required to wear face coverings in indoor settings shared with others and when outdoors within six feet of another person. This order expands the current statewide mask mandate, which has been in place since May 29, and requires all individuals aged five and over to wear face coverings in indoor and outdoor public settings outside of their own household. These changes are consistent with new CDC guidelines, released December 4, which recommend universal wearing of face coverings.
Social gatherings: The maximum number of individuals permitted in a social gathering will increase from 10 to 25 people for outdoor settings, while remaining at 10 persons for indoor settings

Entertainment venues: Outdoor entertainment and public amusement venues will be able to operate with up to 1,000 individuals or at 30 percent capacity, whichever is lower. If current trends continue, these venues may be able to operate at 30 percent capacity with no cap on the number of people permitted to attend starting in April. Indoor entertainment and public amusement venues must continue to operate at 30 percent capacity with a cap of 250 people. All entertainment venues were previously limited to a maximum of 250 individuals.
Dining establishments: The on-site sale, consumption, and possession of alcohol will be permitted until midnight, extended from 10:00 p.m. All restaurants, dining establishments, food courts, breweries, microbreweries, distilleries, wineries, and tasting rooms still must be closed between midnight and 5:00 a.m.
Overnight summer camps: As of May 1, overnight summer camps will be able to open with strict mitigation measures in place. Registration can begin now.
Teleworking: Employees that can telework are strongly encouraged to do so.
The full text of amended Executive Order Sixty-Three and Order of Public Health Emergency Five and sixth amended Executive Order Sixty-Seven and Order of Public Health Emergency Seven are available here. 
Updated Phase 3 Guidelines by Industry Group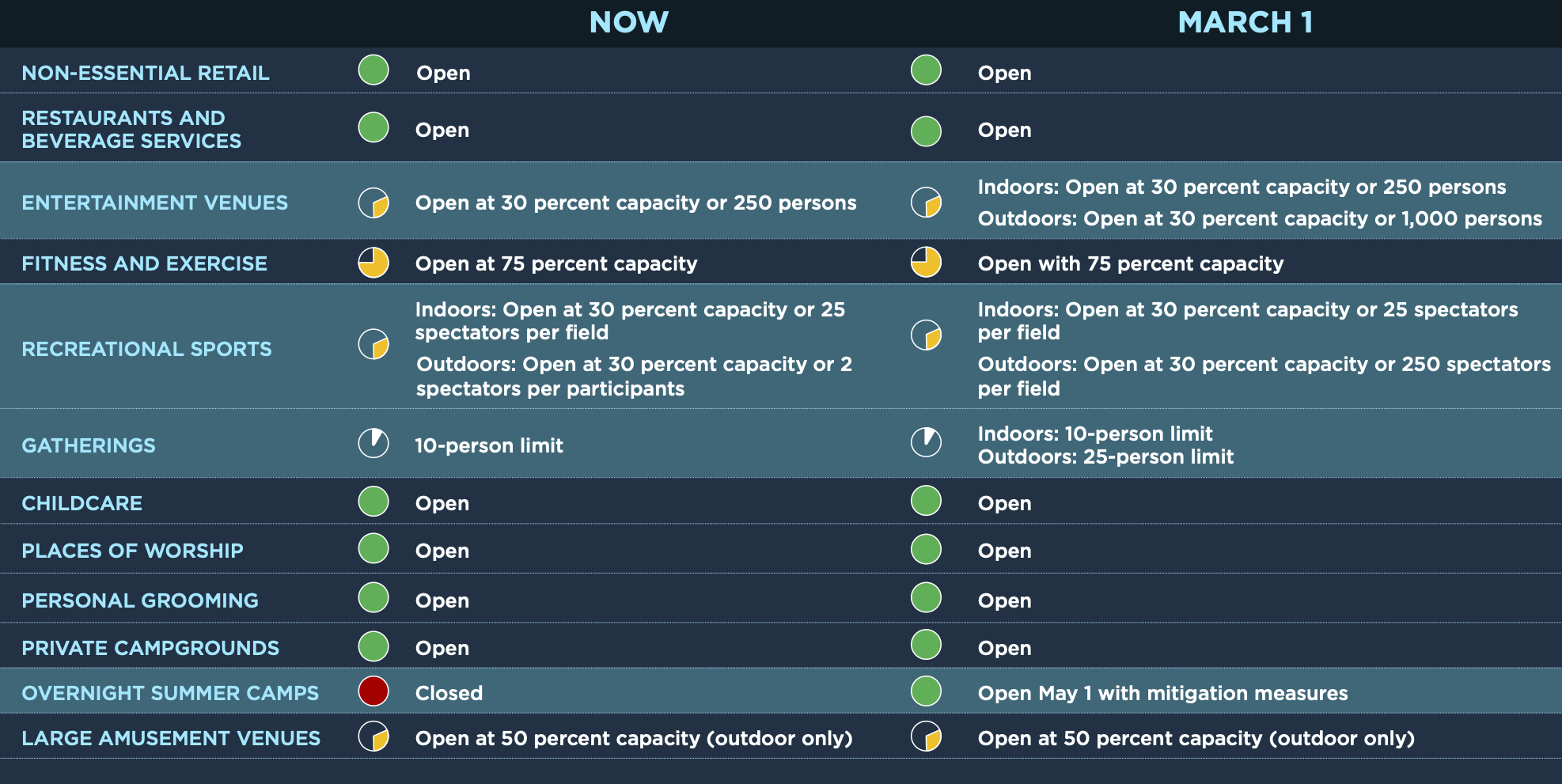 _____________________________________________________
HOW DO I KNOW WHEN I CAN GET THE COVID-19 VACCINE? 
When Can I Get Vaccinated?
Find out which phase of the vaccination campaign you fall in.
While the vaccine supply is limited, COVID-19 vaccine will be offered in phases. People who are more likely to have severe COVID-19 illness and workers that are essential to the functioning of society will be offered the vaccine in the earlier phases.
Please list your race/ethnicity when you sign up for your vaccine and on the day of your appointment.  We ask because this helps to ensure fair and equitable vaccine access and distribution to all Virginians.
Eastern Shore Rural Health now vaccinating Phase 1B including front line essential workers and persons age 65 and older. Learn More.
Riverside Health System is administering COVID-19 vaccines to Riverside Health System patients aged 65+ who live in Virginia and have had a visit with a Riverside Specialty Care Providers on or after 1/1/2020. Learn More.
_____________________________________________________
CHINCOTEAGUE NATIONAL WILDLIFE REFUGE & ASSATEAGUE ISLAND NATIONAL SEASHORE INFORMATION:
REFUGE HOURS: 6AM to 6PM 
CNWR Announces 2020 Fee Changes and Offers Daily Pass Again
Beach is open for swimming, sunbathing, sitting, beach combing, hiking, exercise, and fishing.
Hiking and biking trails are open.
Parking Lots open
Bathroom facilities available 
Herbert Bateman Visitor Center, Refuge Trek and Assateague Lighthouse remain closed.
Toms Cove Visitor Center walk up window is open Friday-Sunday 10am-Noon and 1pm-4pm to purchase OSV permits and secure bonfire permits. Winter schedule will begin November 29: Friday-Monday 10am-Noon and 1pm-4pm. Closed Christmas Day.

PLEASE ALLOW 6 FEET OF PHYSICAL DISTANCING BETWEEN YOUR GROUP AND OTHERS
_____________________________________________________
Governor Northam & Town of Chincoteague COVID-19 Related Press Releases
State Official Contact Information
_____________________________________________________
Business owners please refer to our

COVID-19 Business Resources

 

page for valuable information and links to support your business during the COVID-19 pandemic.
_____________________________________________________
Ways to Help our Local Businesses

:
Purchase gift certificates/cards

Order take out or delivery 

Shop online 

If you are able, skip the refund on a local show or experience

If you are able, consider paying or even just tipping regularly scheduled services you are unable to use like a haircut, manicure, dog walking, house cleaning services. 

Social media – leave a review, share their posts, comment to increase engagement. 
_____________________________________________________
For Everyone's Safety, Please Follow These Few Simple Guidelines: 
Face coverings required inside all buildings and outside when 6 feet of social distancing is not possible (for instance – waiting in line for food service)

Wash hands or sanitize often

Maintain 6 feet of social distance at all times
_____________________________________________________
What's Open on CI?
_____________________________________________________
Call any of our wonderful attractions to make reservations for cruises, fishing trips, tours and so much more. Find them HERE
NASA Wallops Visitor Center – Closed and public programs canceled until further notice
_____________________________________________________
EATS & DRINKS: Indoor dining at 100% capacity, but must maintain 6 feet between parties/tables. 
Masks required inside until seated at your table.
Indoor…Outdoor…Curbside…To Go
CLICK HERE for a complete list of wonderful food options. 
_____________________________________________________
Masks required inside and social distancing in place. 
CLICK HERE for a complete list of fantastic shops, boutiques, art galleries, and more. 
_____________________________________________________
_____________________________________________________
CIVIC ORGANIZATIONS & ASSOCIATIONS:
Chincoteague Chamber of Commerce – Open Mon – Fri 10am-4pm. Closed Saturdays until further notice but Visitor Guides are always available on the front porch.
Chincoteague Food Closet – Open every 3rd Thursday of the month for island residents. Pick up a box of food or have it delivered. For questions or if in need of food sooner, call Craig or Karen at 571-635-2264.  
Chincoteague Island Library – All Eastern Shore Public Libraries are returning to curbside pick-up beginning December 8 until further notice. The Chincoteague Island Library will operate during the following hours: Tue – 1 – 4pm, Wed & Fri – 10am – 4pm, Thu – 1 – 6pm, Sat – 10am – 2pm. Outdoor Wi-Fi is always available in the parking lot and public Wi-Fi hotspots can be found at here. Library materials can be returned anytime in the library's book return slots. To reserve books and browse the public catalog, visit www.chincoteagueislandlibrary.org.
_____________________________________________________
Eastern Shore Rural Health – Free COVID-19 Testing for All
Chincoteague Island Community Health Center hours: Monday through Friday from 8 a.m. to 6:30 p.m. Saturday 8:30 a.m. to 1 p.m.

Patients who are sick please call ahead prior to going to an Eastern Shore Rural Health center. Telemedicine visits (by phone or video) are available for sick patients.
Patients with routine MEDICAL appointments will be contacted to either schedule a telemedicine visit (by phone or video) or to reschedule an in-person appointment for a later time.Refills will be taken care of during call. Patients with refill needs who don't have an appointment scheduled contact your center by calling or patient portal. 
WELL CHILD appointments can be done via a telemedicine appointment (by phone or video), with vaccinations then given during a quick visit to the center.  Parents will be contacted to arrange well child checks.  NO in-person well child appointments at this time. Newborn checks for babies are being done at the centers.
DENTAL services limited to EMERGENCY TREATMENT ONLY at Atlantic and Franktown centers ONLY. Dental patients with an urgent need should CALL BEFORE coming in. 

Late hours (after 5 p.m.) suspended at all centers.

Mask Up VA!: campaign aims to normalize mask-wearing in the Commonwealth. Nice fliers that can be used. https://drive.google.com/drive/folders/1BsV87U3EYYHA5K5sE9gcubzAfdk7-MSQ
Business Toolkits  Resources for general businesses, brick and mortar retailers, and restaurants can be found in these toolkits. (Additional toolkits for other sectors are in production.) Has fliers and other useful artwork that can be used.  https://drive.google.com/drive/folders/1OCvgHCN30JdbZWFx_G0IbdH6ux-SodRA
Videos 
___________________________________________________
The Chincoteague Chamber seeks to provide access to recommendations, regulations, services and expertise to its members.  During the COVID-19 pandemic, this mission remains constant.  Prior to acting, members should consult their own professional advisers for information and counsel specific to the individual and unique situations faced by organizations, individuals and corporations.  The opinions, interpretations and recommendations of the Chincoteague Chamber are informational only and should not be relied upon by the recipient as legal or professional advice.  The Chincoteague Chamber makes no representations as to the accuracy or reliability of the content contained herein.  Users of this information accept any and all risks associated with the use of such information and agree that the Chincoteague Chamber has no liability to user.
___________________________________
Health Awareness Resources
Mosquito & Tick Bite Prevention
Public Safety Resources
Bicycling & Walking Laws in Virginia